Posted on June 19, 2022 by Gabby Site
Hi everyone! Long time, no see!
I'm finally back to updating the site, and have designed a new layout in celebration of my return. I hope you like it as much as I do! Our gallery, our sidebar and our internal pages need some love, but I'll tackle them in the upcoming months. I'll try and update with whatever comes out from now on, and at some point I'll backtrack and upload the content we've missed through the past couple of years.
I will no longer update the Out & About section of our photo gallery, and intend to delete it in the near future. So here's a fair warning, in case you'd like to save anything from that category. Lastly, we're also back on Twitter and on Instagram! Follow us at twitter.com/lovelydakota_ and instagram.com/lovelydakota_.
Dakota attended the "Teen Spirit" premiere to support her sister Elle Fanning! The event took place in Los Angeles on the 3rd, and she was also sighted out and about earlier on the same day. Our gallery has been updated with the images.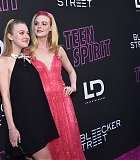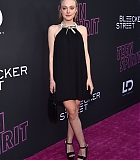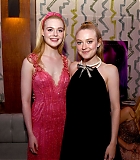 Dakota attended a couple of events this week, and the images from them both have been added to our photo gallery!
Dakota is featured in a recent InStyle article about Rodarte! New photos of her have been released with it, and they were probably taken on the same day as the brand's fashion show in Paris back in February – you can view photos of Dakota at the event here. Our gallery has been updated with the newly released session!