Gabby
May 05, 2020
0 Comments
Dakota has joined a project by the Wizarding World of Harry Potter! She will be reading a chapter of the 1st book of the saga, "Harry Potter and the Philosopher's Stone" (original title). Daniel Radcliffe kicked off the project with Chapter 1, and we don't know which one Dakota will be reading.
Here's the video announcement:
Surprise! We've got a treat for you…From today, amazing friends of the Wizarding World are going to take turns reading Harry Potter book one.

And to start us off with Chapter 1, we think you'll agree we have the perfect narrator…⚡️ #HarryPotterAtHome
https://t.co/w9K77akbou pic.twitter.com/Q03PmjeD5d

— Wizarding World (@wizardingworld) May 5, 2020
P.s.: As you may have noticed, we went a looooong while without updates. If you're interested in helping keep this fansite alive, please contact me on Twitter or via e-mail.
Gabby
April 05, 2019
0 Comments
Hi everyone!
We are currently looking for more people to help on Lovely Dakota. I'll be stepping down and Paige has been pretty busy, but we wanna do our best to ensure the site won't be abandoned. It's the first and longest running for Dakota, and we know that many visitors have enjoyed its content through the years.
If you're interested, please e-mail us at lovelydfanning@gmail.com. Just introduce yourself and let us know why you'd like to join the team. If you've never updated fansites before, we'd be glad to help you learn. We hope to hear from you soon!
Gabby
April 04, 2019
0 Comments
Dakota attended the "Teen Spirit" premiere to support her sister Elle Fanning! The event took place in Los Angeles on the 3rd, and she was also sighted out and about earlier on the same day. Our gallery has been updated with the images.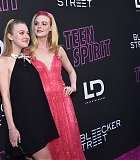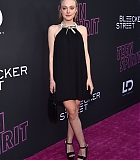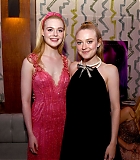 Gabby
March 29, 2019
0 Comments
Dakota attended a couple of events this week, and the images from them both have been added to our photo gallery!
Gabby
March 21, 2019
0 Comments
Dakota is featured in a recent InStyle article about Rodarte! New photos of her have been released with it, and they were probably taken on the same day as the brand's fashion show in Paris back in February – you can view photos of Dakota at the event here. Our gallery has been updated with the newly released session!